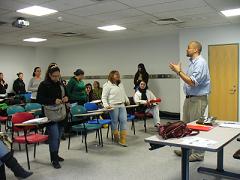 Welcome!
This tutorial will help you acquire the information and skills needed to develop a Democracy Matters chapter. On each campus, Democracy Matters has a three-phase program. The three steps include: (1) organize and educate a core group of peers, (2) develop and run a series of campaigns designed to raise awareness on campus, and (3) activate people to move off-campus to work with community members at a local, state, and federal level on initiatives to deepen democracy.
The workbook is comprised of seven modules. Modules 1-4 provide a basic introduction to the issues. Modules 5-7 will help you develop an action plan. The modules are as follows:
Part 1: Learning The Issues
This section can give you the resources to use in articles for newspapers, for talks in classes and to campus groups, on flyers, and in chapter education. As the year progresses you will need this information so bookmark the website links.
1. Trends and Problems With Money In Politics
2. How Money Gets Into Politics
3. Citizen Owned Fair Elections
Part 2: Organizing A Chapter
This section can give you information to create your own plan for the semester. Write it out and send it here.
A Final Word:
This workbook is just the first phase of our work together. Constant communication between you and your Democracy Matters staff member is crucial. In your weekly check-ins during the school year, you will be going over these and many other issues.
These modules are a work in progress. Please send us suggestions on the modules, readings to add etc. For many students, this tutorial becomes the basis of a term paper for classes in sociology, political science, or history. We look forward to talking more about your ideas.
Enjoy!