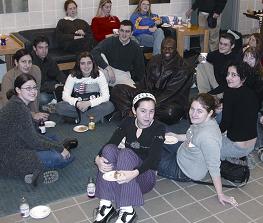 Democracy Matters informs and engages students and communities in efforts to strengthen our democracy. With campus-based chapters throughout the country, our focus on the issue of private money in politics and other pro-democracy reforms encourages the emergence of a new generation of reform-minded leaders.
You can help us meet the cost of educating and mobilizing students by making a tax-deductible gift today!
Alternately, your check, payable to Democracy Matters Institute, Inc., can be mailed to us at 201 Riverview Drive, Poughkeepsie, NY 12601-3935.
$1,000 – 1,500 Democracy Diva
$500 – 1,000 Democracy Defender
$100 – 500 Democracy Devotee
$50 – 100 Democracy Guardian
$15 – 50 Democracy Advocate
Other – Democracy Friend
"ADOPT A CAMPUS" – For a contribution of more than $1,500 you will be assigned your very own Democracy Matters campus chapter!
The Democracy Matters Institute, Inc. is organized and operated exclusively for charitable and educational purposes under section 501(c)(3) of the Internal Revenue Code. Donations are tax deductible. The Democracy Matters Institute is strictly non-partisan and non-profit.