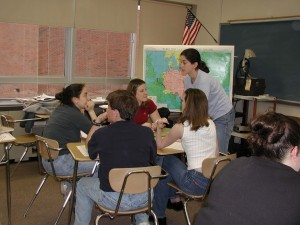 The Democracy Matters High School Advocates Program is an unpaid internship at the high school level. It introduces students to the issue of money in politics and gives them support and guidance in developing skills of activism such as outreach, public speaking, and writing. Students who achieve the goals of the program will receive a certificate of achievement and a letter from Democracy Matters to send to colleges and universities of the student's choosing, outlining their accomplishments. Being a high school advocate also is a first step towards becoming a paid college coordinator in college. More than one student per high school can receive the certificate and letter as long as they are all contributing to the campaigns.
To complete the program, students must achieve the following goals:
Find a faculty advisor who can supervise and sign off on your progress. The faculty advisor will be an ally in your efforts, helping you organize other faculty and students in putting together successful campaigns.
Organize an assembly and/or class focused on the issue of money in politics by bringing in a guest speaker (activists, elected official, etc.), screening a movie followed by a discussion, etc.
Write a two-page research paper outlining the ways in which money in politics influences an issue of your choice (environment, healthcare, national defense, civil rights, etc.)
Coordinate a group of students to do school or neighborhood outreach programs to educate people about the problems and solutions to getting big money out of politics and people back in.
You will also:
Receive a subscription to the Democracy Matters monthly E-News.
Receive any materials and supplies needed for your campaigns (pins, movies, flyers, stickers, etc.)
Receive support and guidance from a Democracy Matters Regional Field Organizer.
Don't wait until college to become politically active. Learn how money in politics influences the issues that you care about and start becoming an effective advocate for change. Help revolutionize our democracy by getting big money out of politics and putting the voices of the citizens back in. We look forward to working with you!
To apply, write an application letter to Professor Joan Mandle, Executive Director of Democracy Matters, joanm@democracymatters.org, explaining why you want to be a DM High School Advocate.