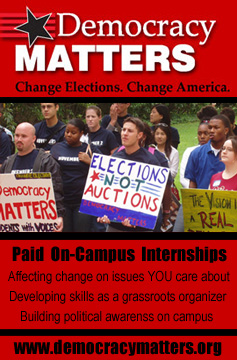 Democracy Matters is accepting applications for paid internships through our Campus Leaders Program. We are a non-partisan organization of students working on campuses across the country to educate people about the role of private money in politics, election reform and their impact on democracy. We call for alternatives that can reform and revitalize our political process thereby deepening democracy in the United States. Specifically, we organize around issues of campaign finance reform, public funding of elections, and automatic voter registration, same day voting, and other election reforms that guarantee every citizen's right to vote.
We differ from other political groups on campus in that we are not linked to a political party and we do not concern ourselves with specific election campaigns. Instead, we are concerned with the process of campaigns – especially fundraising – voter access and issues related to political accountability and democracy.

Campus Leaders are expected to work a minimum of 10 hours/week.

Responsibilities:
Build coalitions of student activists on your campus.
Create a Democracy Matters chapter that can work with students, faculty and community activists to get private money out of politics and people back in.
Organize at least four campaigns/events per semester (see Action Campaigns)
Opportunities:
Receive training and guidance from a Democracy Matter staff link who will work with you each week to develop your skills as an organizer.
Attend the annual Democracy Matters student summit where you will meet with hundreds of other students from across the country and attend workshops to build your skills and issue awareness.
Receive Democracy Matters materials – banner, flyers, DVD, t-shirt, stickers, and pins – to spread across your campus.
Compensation:
$500 per semester if needed or course credit
Additional financial support for campaign/event expenses
Applicants should have a commitment to social change and some organizing experience. No expertise in campaign finance reform is required.
Apply today! Email your resume and a cover letter to joanm@democracymatters.org

To learn more about the requirements for this position, Contact Us.