Democracy Matters provides dynamic speakers experienced in issues of electoral and campaign finance reform. Forums may include college classes, community groups, high schools, business and civic associations, political organizations, religious organizations, conferences, and rallies. Presenters include experienced Democracy Matters staff and students.

Joan Mandle
Joan Mandle has been the Executive Director of Democracy Matters since 2001, and she is Associate Professor of Sociology and Anthropology, Emerita at Colgate University.  At Colgate, Mandle directed the college's successful Women's Studies Program and founded and supervised Colgate's Center for Women's Studies. Her teaching and her extensive published work explore social change and social movements. Professor Mandle also has taught sociology at Haverford College, Bryn Mawr College, Penn State and in China, Japan, Guyana, and at the University of Iceland.
Topics:
Democracy for Sale? Money and Politics in the 2016 Election
Who Owns Democracy? Money, Politics and You
Student Activism: Social Movements and Social Change
Gender, Race and the Politics of Money
Deepening Democracy: Campaign Finance Reform 1976-2016
Money and Politics: The "Fair Elections" Revolution
Inside or Outside: Strategies for Political Change
Building a Democracy – Of, By and For the People
Democracy Matters and Student Activism: Making a Difference on Your Campus and in Your World
Corporate Power, Money, and Politics: How We Take Back our Democracy
The Personal is Still Political: The Women's Movement Then and Now
Women, Money and Politics: Can We Win?
Fighting Corruption in Albany with Fair Elections
Anita Kinney
Anita is the Democracy Matters Regional Field Organizer for campuses in the Northeast. She is currently working towards her Masters of Social Justice in Intercultural Relations from SIT Graduate Institute in Brattleboro, Vermont. Anita has been driven by a sense of urgency in our current political system to work for the rights of citizens through social justice and activism. She has worked with migrant, Native, and underrepresented communities in North America, advocating for equal access and a political voice in these times of hardship.
Topics:
Democracy Does Matter: Money, Politics and You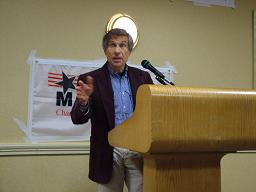 Jay Mandle
Jay Mandle is the W. Bradford Wiley Professor of Economics at ColgateUniversity. Professor Mandle is an internationally renowned scholar and has lectured extensively throughout the Caribbean, South America, Australia, China, and Japan. On the issue of money in politics, Mandle has published widely, including his books, Democracy, America, and the Age of Globalization and Creating Political Equality: Elections As a Public Good. Mandle's commitment to the issue of money in politics is evident in his regular monthly editorial, Money On My Mind.
Topics:
Elections as a Public Good
Humanizing Globalization: The Need for Campaign Finance Reform
Financing Elections Democratically
Inequality Matters: Reversing the Income Gap
Why Democracy Matters
Save the Environment: Change Elections, Change America
The Economic Meltdown
Adonal Foyle
In 2001, NBA player Adonal Foyle founded Democracy Matters to give college students a voice in the pro-democracy movement and an active role in the national dialogue on money in politics. As President of Democracy Matters, Foyle plays a crucial role in the organization's success. He serves as a committed and articulate advocate for the political engagement of young people and for the movement to get private money out of politics.
Topics:
So What Does NBA Basketball Have to Do with Campaign Finance Reform Anyway?
Don't Tell Me that You Can't Make Democracy Matter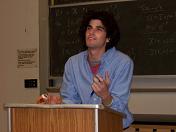 Democracy Matters Students
Democracy Matters students speak in classes or at meetings of other campus organizations and go off campus to engage with citizens and their wider communities. Presentations concerning democracy, money and politics has been conducted at local high schools, engaging high school classes in interactive presentations, small group discussions, and/or showing videos.
Topics:
What are "Fair" Elections and Why Should You Care?
Building a Movement for Social Change
The D.M. Internship
Contact us to find out more about scheduling a Speakers Bureau engagement for your organization. Email: joanm@democracymatters.org