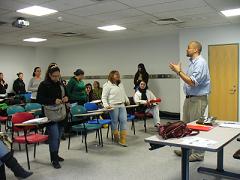 This is a great way to RECRUIT and EDUCATE students!! Ask friendly faculty members if they will give you a few minutes to talk.
If you have 1 minute:
Just talk about Democracy Matters getting big money out of politics and people back in. Tell them when and where your meetings are and what your contact information is!
If you have 5-10 minutes:
Two minutes on the problem – a small group of wealthy people is using their money in politics to harm our democracy. Pick an issue and two facts to show the power of campaign contributions to influence policy. (Pick something students care about e.g. fact about environment.) See Effective Public Speaking.
One minute to talk about solutions – public financing of campaigns means anyone can run, gives voters more choice, elects reps who are accountable to citizens, not to big money! See Effective Public Speaking.
Two minutes about Democracy Matters on your campus, how it is making a difference and how they can get involved.
Pass around a DM flyer and a sign up sheet for people who want more information on getting involved.
If you have 10-20 minutes:
Do more of the above and/or show half of the Road to fair Elections Video (about 8 minutes).
PASS A SHEET AROUND TO GET NAMES AND EMAILS OF INTERESTED STUDENTS. HAND OUT A DM FLYER with your contact information on it.