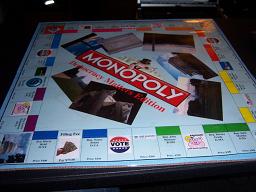 Having fun while learning about money and politics is a great way to get attention and educate people.
Join with other campus or community groups who are having a fair or festival. Set up a Democracy Matters booth with a carnival game. Decorate the booth with banners and posters and handouts educating people about money and politics and talking about Democracy Matters. Be sure to put your name and contact information and the DM logo on everything.
Even without a fair, set up a DM game booth in a high-traffic area on campus and create your own funny/educational game.
Here are some great new game ideas from our DM chapters.
Corruption Junction: Match the Politician to the Scandal
The Comics of Fair Election Politics
Monopoly, Democracy Matters Edition
And here are some more ideas:
Pin the "Democracy Award" on the Politician: Make a big display with pictures of a few politicians taking money from different lobbyists (carefully labeled as such) and then show one politician talking to constituents who is designated as a Fair Elections candidate. Blindfold each participant and see if they can pin the "Democracy Award" on the Clean politician.
Question Bingo: Everyone gets a piece of paper with a series of questions on it (in a bingo format, i.e. in squares). Participants are required to find another participant who can answer the question and have that person sign their name within the square. The object is to fill a complete line either horizontally, vertically, or diagonally. You can only use each participant once and the center circle should be "free." Questions should have to do with organizing in general, Democracy Matters, or money in politics.
Sell T-Shirts: With your computer, an iron, some t-shirts, and a few sheets of "transfer paper," you and your friends can easily design and make your own activist t-shirts. You can also visit online custom t-shirt/merchandise site such as www.zazzle.com, www.cafepress.com, http://www.customink.com/custom/hanes. Brainstorm designs and slogans with your chapter members. Then get some t-shirts and order transfer paper from http://www.customink.com/custom/hanes. The paper comes with easy instructions for creating your designs (no extra software needed, just MS Word), printing them, and ironing them onto t-shirts.
Balloon Darts: Insert small pieces of paper with money in politics facts on them into 25 balloons. One balloon should have the word "CLEAN MONEY" inside. Blow up the balloons and pin the ends (without breaking the balloons) to a bulletin board. Have your chapter members throw darts at the balloons and, if they break any, read the fact inside to everyone. The one who breaks the "Clean Money" balloon is the winner.
Bowling for Fair Elections: Get a small, cheap, bowling game. On each pin, write a fact about the current elections process, or how fair elections can improve it. On the bowling ball, write "Fair Elections." In effect, fair elections are 'bowling down' the 'kingpins' of big business and other big campaign contributors. Make sure to have prizes on hand, such as silly items from the dollar store, or Democracy Matters candy, etc. When a person bowls, they get a prize no matter what, but before they can have it, they must read a fact from the pin of their choice. (Special thanks to DM students at Sacaramento State for this great idea!).
Buy My Vote Game Show: The game show begins by asking students to play a quick game that would only take 2 minutes of their time. The emcee then asks about an issue they care about and asks the student to vote for one politician after a short debate about that issue. Once the student announces who he/she would vote for, the corporation sneaks in and presents a $50 million check to the candidate and states he will give the politician the check only if he does the exact opposite he just promised the student he would do. (Special thanks to DM students at Indiana University Purdue University Indianapolis for this great idea!).