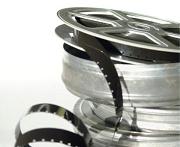 Film screenings followed by a discussion and/or a debate are a great way to delve into specific issues. Allow yourself enough time to book a room/theatre and develop plenty of advertising for the event. Ask professors if they will give their students extra credit for attending.
Materials Needed: VHS/DVD, DVD/VHS player, television and/or projector, film screening worksheet
Space Needed: classroom, lecture hall, or theatre
Action Plan:
Step 1: Meet with your group members to pick a movie and decide on a day of the week that can draw the most viewers. Check out our list of political films for some suggestions.
Step 2: Reserve room/theatre space. Make sure the space is big enough to fit the amount of people you plan on attending. This step can oftentimes take weeks to coordinate so be sure to allow yourself enough time. Never underestimate the bureaucracy!
Step 3: Ask other campus groups if they want to co-sponsor the event and help you develop a promotional plan to advertise the movie screening. Oftentimes, this step can be integrated with step 1.
Step 4: Put together a set of discussion questions related to the topics in the movie. Have a couple of your group members prepared to respond to the first couple of questions in case no one in the audience is brave enough to break the ice.
Step 5: Put together a promotional plan, such as flyers, posters, email blasts, Evites, Facebook invites, class announcements, and/or ask professors if they will give their students extra credit for attending.
Step 6: Make sure you buy, rent, or borrow the DVD/VHS and that it is works and plays on the machine you are using.
Step 7: (optional): Food is always a draw, so buy some snacks for the screening. Make sure you run any expense over $35 by your staff link before you purchase anything. If you do incorporate food into the screening, make sure you mention that when you are promoting the film in step 4.
Step 8: As people enter the room/theatre have a sign in sheet so you can add them to your email list.
Step 9: Once the movie and discussion are over always inform the audience of specific actions they can do to help the movement and always let them know when and where your group meets and what you are planning for your next event/campaign.