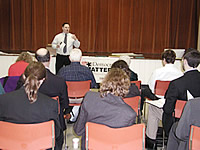 By working off campus, Democracy Matters students gain important experience with the real world of politics. At the same time, community activists gain much needed help and the energy to carry their efforts forward. Here are just some of the ways trained Democracy Matters students can help:
Work with local and state coalitions.
Sponsor local legislation.
Support statewide and national campaign finance reform initiatives.
Raise awareness through leafleting, door to door canvassing and community rallies.
Develop relationships with local and regional media.
Democracy Matters students offer interactive presentations at local high schools on politics and other pro democracy issues. Classes studying government, politics, or other related issues (social justice and the environment for example) are particularly good places to discuss money and politics. Through these presentations, younger students are encouraged to become active in the political process by writing to their school newspaper, talking to their parents, and perhaps setting up their own Democracy Matters chapter.
Democracy Matters staff also serve as speakers in forums that may include college classes, community groups, high schools, business and civic associations, political organizations, religious organizations, conferences, and rallies. Read more about our Speakers Bureau.
If you would like to pursue a Democracy Matters campus/community project, Contact Us.