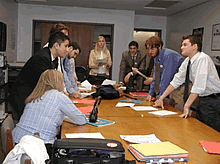 Building coalitions on campus is a great way to strengthen your chapter, get more people involved in our issue, and spread the word. It is always more effective to GO TO where other people already are than to try to get them to come to you!
1) Check with Student Activities (or on your school's website) for names and contacts for other student groups. They do NOT only have to be political groups (e.g. fraternities and sororities, service organizations, religious organizations, or departmental clubs like sociology or political science are great). Everyone cares about whether they have a voice in democracy. So even if there are no specific issues their group focuses on, you can talk about deepening democracy and giving students a voice. (See Effective Public Speaking.)
2) Call and ask if you can come to one of their meetings and speak about the way their issues and interests are linked to Democracy Matters. Research using our Money On My Mind issues, or www.opensecrets.org for connections between money and politics and whatever the group cares about (don't forget: money and politics influence EVERYTHING and democracy itself). You can also check with your DM staff person for ideas.
Then give a talk that (1) links their issues to ours (you only need a couple of examples), (2) explains the Clean Money solution, and (3) asks them to get involved by signing a petition either as a group or individually (see the Petition Campaigns & Democracy Pledge for ideas). Also get the names on a sign up sheet (for our E-News) of anyone who wants more information. If you have time, show part of the video, "The Road To Clean Elections."
– When you organize an event or an action ask these groups to co-sponsor or work with you on it. You will probably end up doing most of the work anyhow, but their members will be more likely to come if their organization is involved.
– Write a letter to the editor of your school paper or get a reporter to write about the great coalition you have created with all these groups supporting the deepening of democracy.
– Call your school's Student Housing office and get a list of the RA's who work in student dorms. Many of them have to do mandatory programming with their residents. Contact them and offer to do a program on democracy! You can use the same talk you do for In-Class Raps or to talk to other campus groups. (See RA and Dorm Presentations.)
– Figure out where else on campus groups of people congregate and try to get to talk to them too! Try this for off-campus organizations too, like local Rotary Clubs etc.
– Always have Democracy Matters flyers to hand out and sign up sheets to capture names!
Environmental Coalition Building – Check out 350 and Power Shift and other national environmental days.