POTTY POLITICS
DM students at SUNY Geneseo have educated students about how to get big money out of politics through their "Potty Politics," a series of flyers placed on bathroom stalls helping both students and faculty to be aware of and involved in the NY campaign for Fair Elections.
Read Volume 1.

---
MOVIE SCREENING AND TEACH-INS
DMers at Vassar College organized a successful screening of the money and politics documentary, "Pricele$$," and put on a major post-election teach-in. Both events graphically demonstrated the catastrophe that the flood of big money in politics is creating in our political system and society.
The chapter has also created coalitions with many other campus groups, participated in voter registration and GOTV (get out the vote) campaigns, and made sure that students' right to vote was protected on November 6th.
---
PRESIDENTIAL DEBATES
Savannah Keller and her Democracy Matters members at Marshall University in West Virginia have been very active this Fall, raising awareness with flyer and poster campaigns as well as tabling, chalking, and class raps. DM at Marshall organized a campus voter registration campaign, and sponsored a screening of Pricele$$ - a fantastic documentary exploring where the big money in politics comes from and what it buys.
The chapter also sponsored screenings of the Presidential debates, with students meeting ahead of time to discuss what issues were most important to them. They found in most cases that the topics most important to students – student loans, the rising cost of college, the environment, income inequality – were hardly mentioned or totally ignored during the debates. In the coming months, Democracy Matters at Marshall will be doing more educational outreach and actions to address these critical issues and their links to money in politics.
---
OUTREACH
Since 2005, DMers in the SUNY Geneseo chapter have had an enormous impact on their campus. And this year is no exception. Under the leadership of Nick Sloper and Josh Kent they are planning film screenings, and outreach to the local community in Geneseo. Their publicity campaigns using social media, videos, and educational posters urge students to register, vote, and get involved with the New York Fair Elections campaign for public financing. One Geneseo DMer is working on a satirical op-ed for the school paper thanking the New York State legislature -- with its constant money scandals -- for being one of the most corrupt in the country. Another group will be acting out Street Theater on campus, dressing up as former Presidents (Lincoln, Washington etc) - all of whom are horrified that big campaign contributions are undermining our democracy!
---
VOTER REGISTRATION
The Monroe Community College Democracy Matters chapter is new this year. And Christopher Morris is quickly making a name for DM by tabling, registering student voters, and co-sponsoring a recent well-attended event with his campus's "Democracy Commitment." The program was keynoted by Joan Mandle, DM's Executive Director, speaking about "Who Owns Democracy." Chris urged the room packed with students to "make a difference to the things that matter to you by joining Democracy Matters and working for NY Fair Elections."
---
SOCIAL MEDIA
Social media is an important part of modern civic engagement. Democracy Matters at Wayne State University in Detroit decided to celebrate presidents' birthdays in a way that encouraged students to "like" their page on Facebook. For George Washington's birthday on February 22nd, DMWSU members created a large sign saying "Happy B-Day George!" with a picture of a surfing George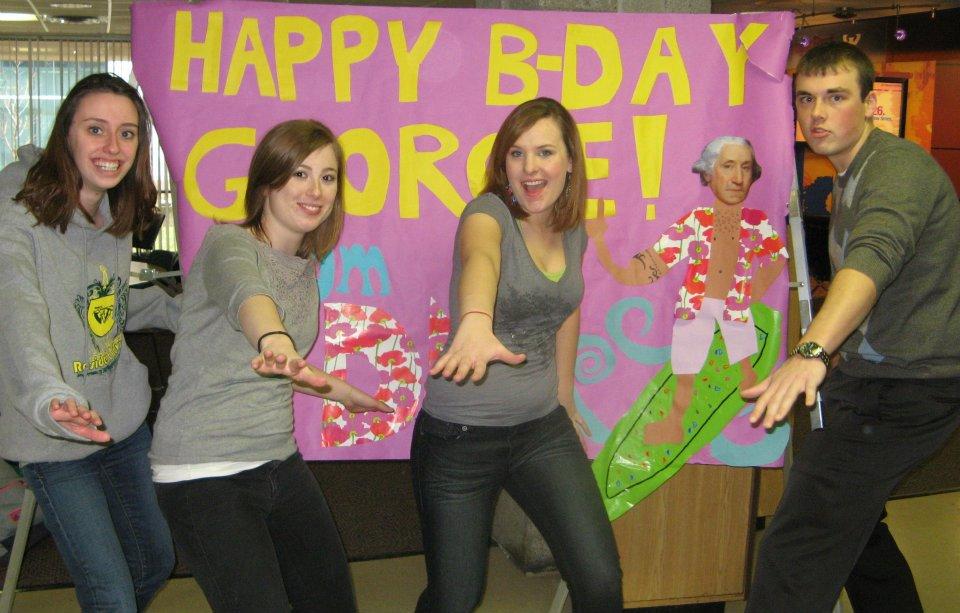 Washington. DMWSU members took pictures of students with the George Washington sign, gave them a cookie, and a slip of paper with a quote by George Washington and information to like "Democracy Matters WSU" on Facebook so that they could find their picture online. Many students were curious about how their picture turned out and in the two days following our birthday celebration, about 15 new people "liked" our page on Facebook. With more people interacting with our Facebook page, more people are able to see the events we are hosting and meetings that we advertise. Many college students use Facebook so it is a great tool for our target audience.
---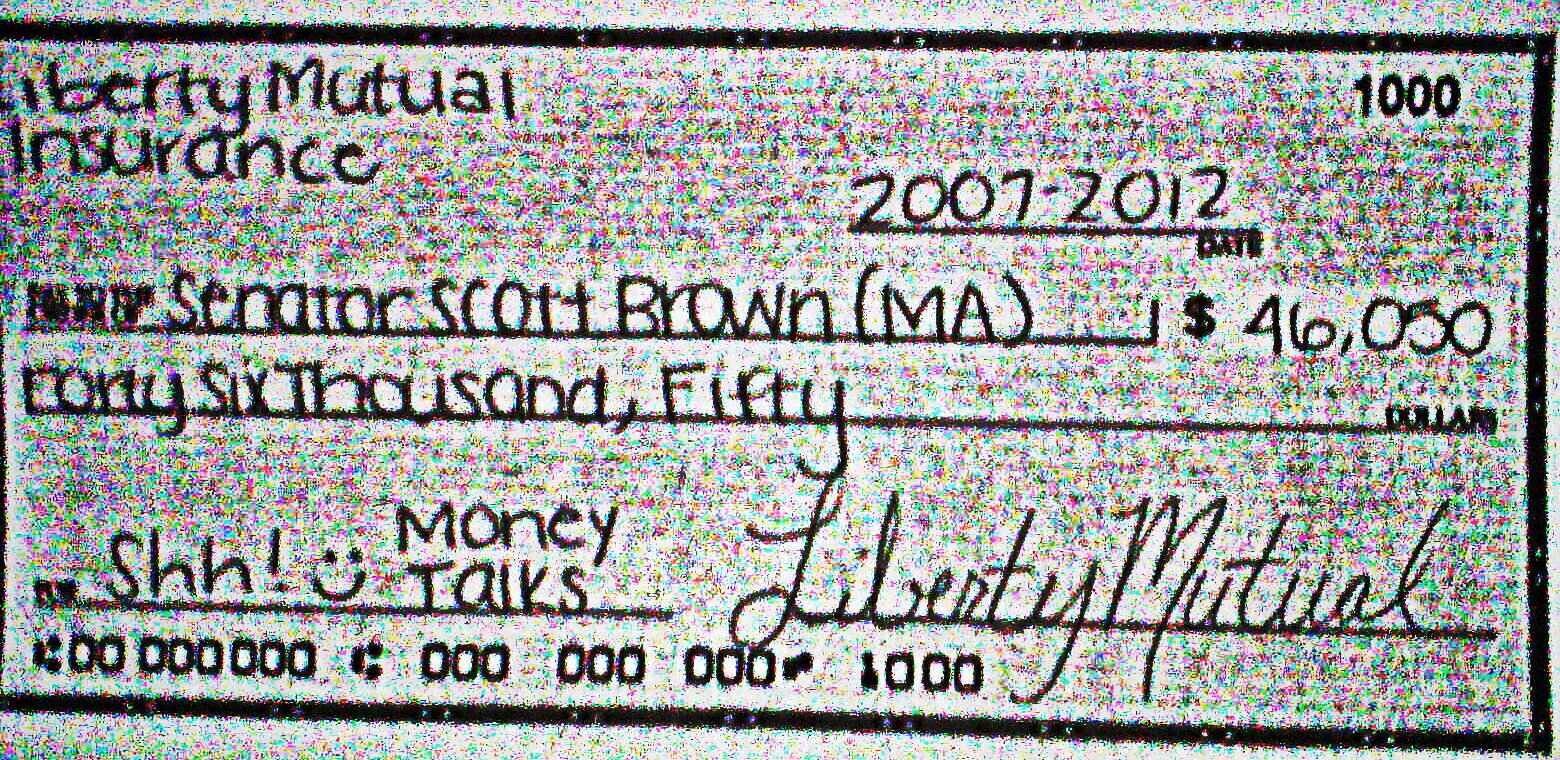 CAMPAIGN CONTRIBUTION CHECKS
During the busy lunch time rush, Saint Mike's DMers handed out big fake checks that we made. They were addressed to presidential candidates, the DCCC, RCCC and other big candidates in the 2012 election cycle. The checks were for hundreds of thousands of dollars and signed by some of the biggest corporations in the U.S. We handed out checks as students were eating, entering the cafeteria and while they were leaving. We littered the tables with them as well. Many people looked befuddled at first, but as they read further, the back of the checks had information about Democracy Matters and when our chapter meets weekly. It got their attention!
---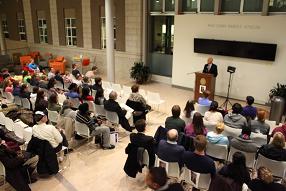 GUEST LECTURE
Congressman Paul Tonko of New York spoke at an event organized by the Democracy Matters chapter at Union College in Schnectday, New York. DMers used the school paper, posters, class raps, messages to faculty to make announcements in their classes, emails, and table tents to advertise the talk. All this energy for publicity was rewarded with a turnout of over 100 students and faculty, including the President of the college. Tonko talked about what it was like to raise money, the harmful effects of big private money in politics, and especially the promise of public campaign financing. He urged the students to join the fight for public financing in New York State, emphasizing that New York has among the highest allowable contributions to state legislators and a shameful history of money scandals and corruption. Democracy Matters arranged for snacks at a reception following the talk, and the Congressman spent almost two additional hours talking with students. It was a great event with great publicity that produced a huge turnout!
---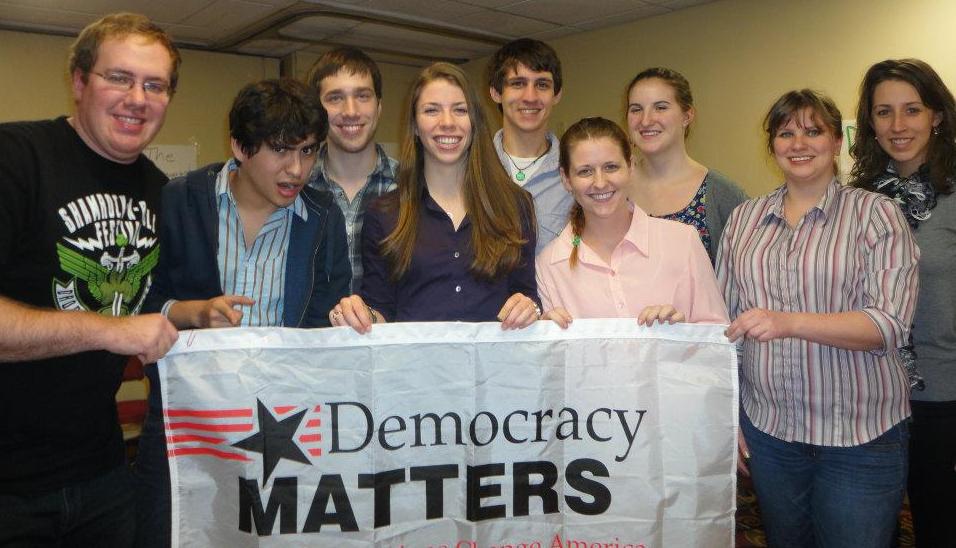 COALITION BUILDING
DMers at the Geneseo campus of the State University of New York (SUNY) continue to live up to the high standards first set when the chapter started six years ago. Last fall, Democracy Matters at Geneseo reached out to other campus groups including Occupy Wall Street and NY Peace Action, creating a unified effort to educate and mobilize their campus. With meetings, discussions, lectures, outreach to other groups and campus actions, together they had an enormous impact. This semester they again hit the ground running. They began by showing a "very cool" documentary, "The One Percent," that explores the growing US income gap (available at Netflix and YouTube). DMers regularly table with information and suggested actions that students can take. For example they organized a successful "candy and condoms for callers" tabling action. It involved Geneseo students' calling their state Senator's office to urge support for public financing in New York State. Now they are concentrating on gathering petition signatures to take with them on their upcoming visits to his office. Congratulations to Kate Harlin, DM campus coordinator and Geneseo student activists for their great work!
---
WRITTEN ARTICLES
Emily McNally, the Democracy Matters leader at St. Mike's in Vermont, started off the semester with an article in her campus magazine entitled, "2012, Citizen's United, and the Crumbling of American Democracy." Last semester St. Mike's students were interviewed for a documentary on money in politics called "The Washington Influence Industry," and they also ran successful petition and voter registration campaigns. This Spring they'll be writing more op eds, growing their chapter, and focusing on the role of big money in blocking environmental protection. Congratulations to Emily McNally and the crew at St. Mike's!
---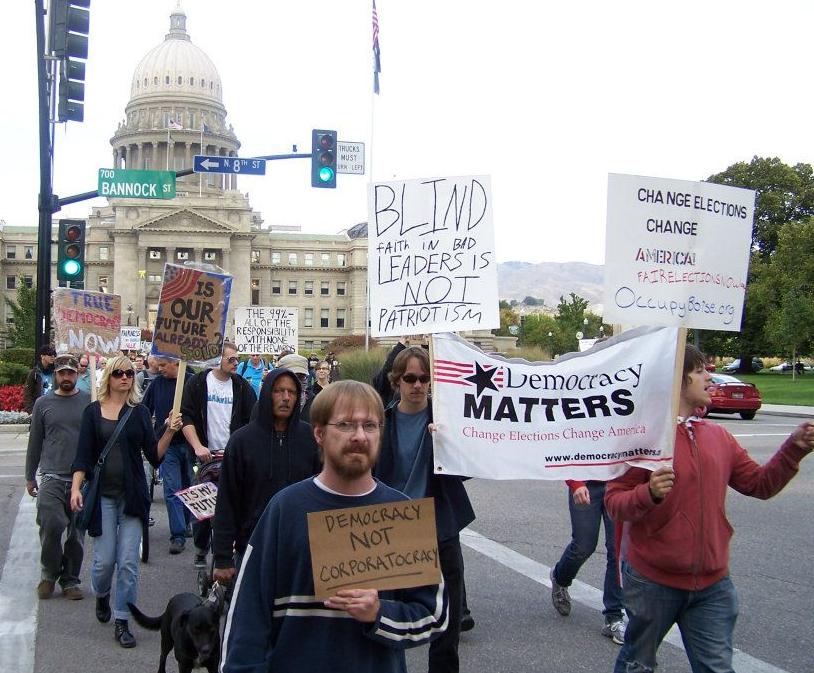 OCCUPY MOVEMENT
Occupy Boise has been an important focus for the Democracy Matters chapter at Boise State. Gus Voss and his members are emphasizing the importance of public financing to both Occupiers and students. DM at BSU has also published three newsletters this fall, and distributed them free to students and community members. Their activism has been publicized in Boise's student newspapers and on local TV, they have hosted local political candidates on campus, and have collected petition signatures to send to politicians. Great work, Boise Democracy Matters!
---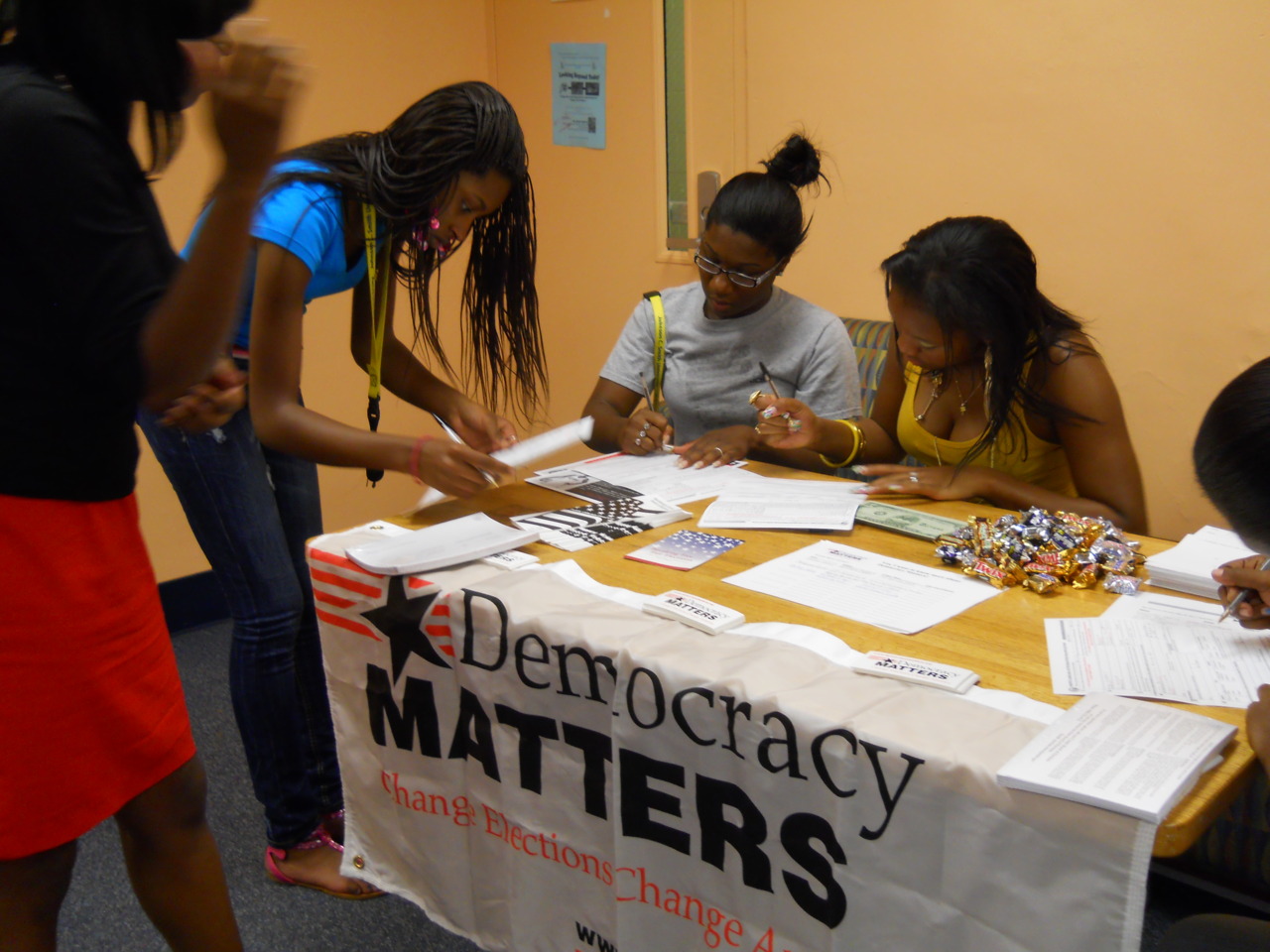 MARCH FOR DEMOCRACY
Democracy Matters is new this year at Johnson C. Smith University, but Mecia Moore and her members are making a big splash on campus. They organized a "March for Democracy" as part of the school's Homecoming Parade – handing out DM buttons and information. They've "dorm stormed" and tabled each week, run a successful voter registration drive, and organized a "Democracy Workshop" facilitated by DM's field director, Anita Kinney. For Halloween they handed out facts about money in politics attached to candy treats. Congratulations to the great JCS Democracy Matters chapter!
---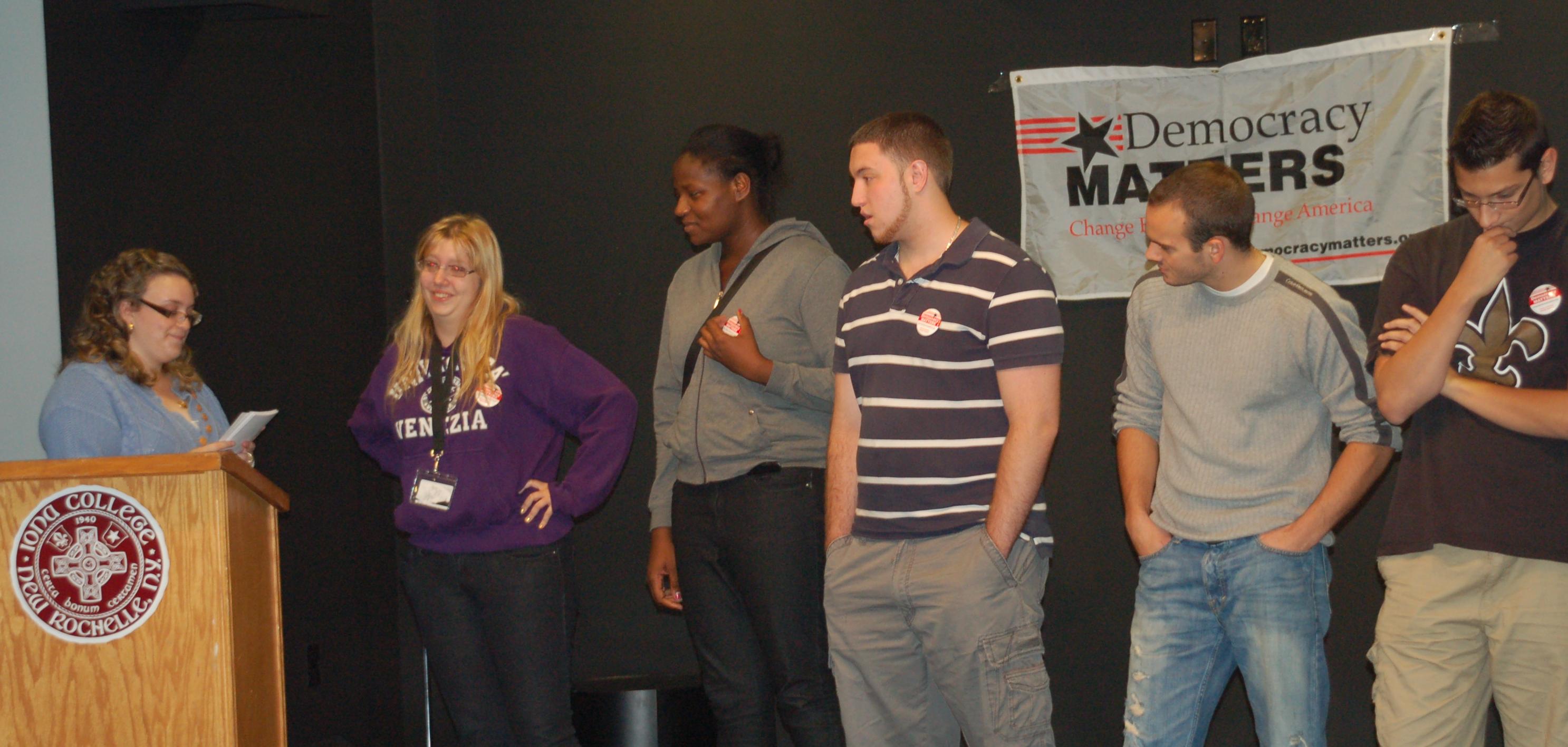 TRIVIA GAME SHOW
Annemarie Stepancic and her stalwart band of Iona College Democracy Matters activists has had a lot going on in just the first month back on campus. They celebrated Constitution Day with a well-attended Democracy Matters Trivia Game Show. Students competed for prizes by answering questions about American democracy and the Constitution. In order to publicize the game show, they created a "Constitution Day Word Search" that was published in the school paper. And since the beginning of the semester, the chapter has combined handing out information to students about their chapter and about money in politics with a successful voter registration campaign. Looking ahead, they are organizing a faculty forum and discussion on "Democracy at Home and Abroad," as well as a teach-in on the link between campaign spending by corporations and the current economic and jobs crisis. Congratulations to Iona College Democracy Matters!
---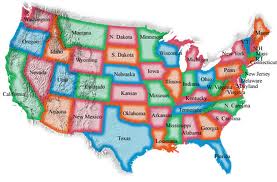 Democracy Matters chapters from California to Idaho, Oklahoma to Georgia, and Minnesota to Vermont are already spreading the word and recruiting other activists through:
Freshman Orientation & Campus Involvement Fairs – reaching out to new and returning students with flyers and posters, tabling, dorm presentations, and invitations to join the "coolest" group on campus to make a real difference!
Constitution Day Celebrations – highlighting the damage to democracy of big money in politics and emphasizing the importance of student political activism.
Voter Registration Drives – registering students to vote and urging active involvement with Democracy Matters to ensure their voices are heard.
Petition Campaigns – gathering student signatures on letters, petitions, bars of soap and more to send to elected officials in support of Citizen-Owned, publicly financed election campaigns.
Forums and Discussions – bringing together students, faculty and community activists to learn, dialogue, and take action.
---
POTTY POLITICS
St. Lawrence University printed a "Potty Politics" flyer that they posted inside the doors of bathrooms around campus. It's a great way to get Democracy Matters name on campus and educate students on important issues. Check it out here.
---
VIDEO TO STATE REPRESENTATIVES
Democracy Matters at Indiana University show new Republican representative Todd Young the desire from his community for fair elections and regulation of money in politics. Click here to view.
---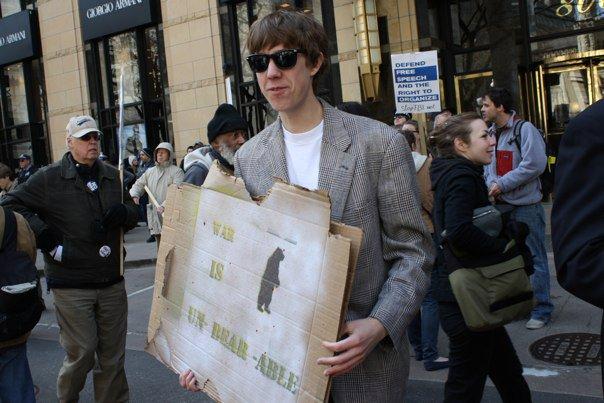 ANTI-WAR RALLY
It was a beautiful day in Chicago to be outside with fellow progressives in protest of the egregious use of military action by the U.S. in light of the eight-year anniversary of the invasion of Iraq. It also happened to be the day that military action began in Libya.
The Notre Dame and Indiana University chapters of Democracy Matters met up to join the crowd on Michigan Avenue. Some of the best signs were Notre Dame's "War is Un-Bear-Able" (with a bear on it, of course) and "Obama: Norway called. They want their Nobel Peace Prize back."
At Noon, there was an hour of speakers to rally the group. While much of the attitudes of the crowd were calm and peaceful, as well as some of the speakers, a couple of those leading the protest were decidedly angry and manifested that anger in a negative way, in my view. The abrasive and sometimes hateful tone turned some of us off. The reason we were there was to support non-violence, but here were some of the leaders acting with violent attitudes. While I cannot disagree with what they were saying, the tone was unproductive, I think, particularly if we were to gather people from the street to join us.
Nevertheless, we had some good conversations and a few of us had our first protesting experience. Most in the crowd had already made the connection between moneyed interests such as contractors and raw materials industries and the war machine. Overall, the experience was good and we got to get the Democracy Matters name out there to more people in the activist community.
In addition to our trip to Chicago, the IU chapter of DM held a successful movie screening of "Why We Fight" to spark a discussion about how we use our military and its relationship to corporate power. In light of the recent intervention in Libya, we hope that that message will stay in peoples' minds while considering their stance on this policy question and cause them to create their own discussion within their groups of friends and in classes.
----
On March 19, 2011, members of Democracy Matters Notre Dame participated in the Chicago Peace Rally. We all met at my house in the Chicago Suburbs to make signs the night before. We had a great time exuding our mutual creative talents and ended up with some great spray painted cardboard signs. We met up with DM chapters from Indiana University and Northern Illinois University downtown before the rally. The protest started at Congress and Michigan for a pre-march rally. People of all different political beliefs, ages, and backgrounds joined together for the mutual goal of world peace. March 19th not only marked the 8th anniversary of the American Invasion into Iraq, but also the start of American military intervention in Libya. Everyone at the rally sensed the relevance and pertinence of our actions. We marched north along Michigan Avenue towards the water tower. The police had a strong presence at the march, but they were non-intrusive and did a great job keeping the march peaceful. The march demanded plenty of attention on Michigan Avenue, full of tourists, shoppers, and residents walking around that Saturday afternoon. Participating in a war protest of this magnitude exceeded my previous expectations. Not only did we learn how a contemporary rally is performed, but it also energized our own unique political activism goals. "End the war and occupation we need jobs and education".
---
REFORM SGA
Last year our Wesleyan Student Assembly (WSA) Presidential and Vice-Presidential elections were over the top. The winning ticket bought bottle openers for everyone on campus, bought Facebook ads, had professionally printed posters and sent text messages to every student. In light of last year's election tactics, which although successful, annoyed much of the student body, we decided in early December that we wanted to create a "student financing" bill. Wesleyan has a wide range of incomes on campus, with over half of the students able to pay $55,000 a year, yet a significant number of students on very heavy financial aid, so our main goal was to try to make sure everyone had an equal opportunity to run our student government. I did some research on our current rules and systems at other universities, and based on that research, our group collectively wrote a financing resolution. We had a rough draft done by winter break, which was our goal.
After winter break we sent around our resolution to our Democratic club and a few other members of our school who had been on the student government (WSA). They helped make the resolution more technically sound in terms of "WSA jargon." We had anticipated quite a bit of resistance in the WSA. We had an online and paper petition campaign, flyers, banners, op-ed pieces, and listserv blasts ready to go. Our plan was to work with the student body to gain support for the resolution, while at the same time gauging student opinion on the resolution. This would allow us to come to the WSA with a resolution that the student body really supported. Our first step was to get a news article published in our paper. In the process of having the article written our WSA VP found out and emailed me. At first he felt attacked and was very suspicious that a non-WSA group would try to change WSA policy. He didn't understand why we would care. After filling him in on Democracy Matters, he seemed really interested in supporting it. We worked with him and the other WSA members to change some parts of the resolution, so that we had strong support. The WSA had fewer reservations than we thought and it turned out the whole PR campaign wasn't necessary. The resolution has been changed a bit, but still preserves our main goal of leveling the playing field. Presidential and Vice-Presidential candidates get around 300 free copies and cannot spend more than $25 on the election. I think that this resolution is as good.
---
LETTERS TO THE EDITOR
Susan Renfro at Fresno State in California got this letter to the editor into her school paper right before the election. Here is an excerpt: "The cost of campaigns in America has gone overboard. There is no feasible way anyone who isn't wealthy or willing to play puppet to large corporations and unions is able to run for public office. The skyrocketing price of campaigns has forced minority parties out and moneymakers in. Do these moneymakers have our best interest in mind or do they want to hold public office as a form of income? The answer to this problem is The Fair Elections Now Act."
---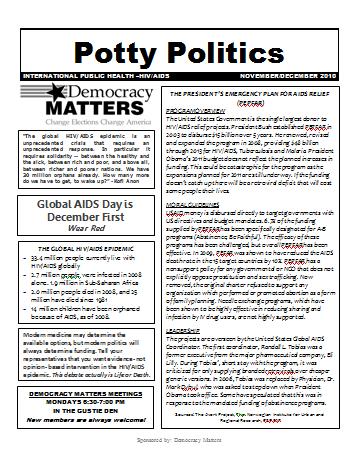 POTTY POLITICS
Gustavus Adolphus College prints up a "Potty Politics" each month on a different topic of interest. It is a great way to get Democracy Matters name out to the campus and educate students on important issues. Here is an excerpt from the November/December issue:
"THE PRESIDENT'S EMERGENCY PLAN FOR AIDS RELIEF (PEPFAR)
PROGRAM OVERVIEW
The United States Government is the single largest donor to HIV/AIDS relief projects. President Bush established PEPFAR in 2003 to disburse $15 billion over 5 years. He renewed, revised and expanded the program in 2008, providing $48 billion through 2013 for HIV/AIDS, Tuberculosis and Malaria. President Obama's 2011 budget does not reflect the planned increases in funding. This could be catastrophic for the program as the expansions planned for 2011 are still underway. If the funding doesn't catch up there will be a retroviral deficit that will cost some people their lives."
---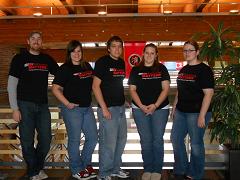 HOMECOMING PARADE FLOAT
The University of Wisconsin-River Falls has started a new DM chapter this year so we are using every opportunity to get our name out there! We decided an easy way to get to a lot of people at once would be to have a float in UW-River Falls' 2010 Homecoming Parade. It was nothing short of a huge success! People of all ages where expressing interest in DM and wanted as much information as they could get from us as we walked around. We bought candy for the younger and handed out money in politics literature to the college students and community members.
Everyone expressed interest in what we do and how we can start making a difference. We had people from other committees on campus as well as representatives for congressmen approach us asking for our contact information. They want to get involved with us on campus! We decorated the side of my car with signs that said "Your Vote Counts", "Get Out and Vote", "Clean Money, Clean Elections" and "Help Get Money out of Politics and People Back In". We also tied the DM banner to the top of my car with twine and two wooden posts. To grab everyone's attention, we tied balloons to my mirrors and spoiler and had streamers blowing off all the signs and other parts of my car. The only thing I would change for next year is to have more literature on hand! This was such a positive experience in getting DM's name out on our campus and in our community!!
---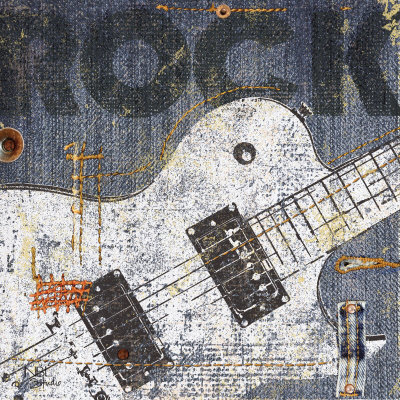 A DemROCKacy Concert!
In an effort to try and get people involved in the new Democracy Matters chapter at Saint Michael's College in Vermont, we held a Rock the Vote Concert on the eve of election day. The concert was a great success with a large student turn out. We wanted to hold the concert the night before election day to encourage people to get out and vote the next day. We provided information on all of the VT candidates and their positions, the Fair Elections Now Act, and Democracy Matters itself. In between the bands, we spoke about money in politics and the democratic process. There was also an article about the event featured in the school newspaper which helped spread the word. Overall it was a cool way to get people who wouldn't usually be interested in politics to come out and learn about the process. We were able to combine fun with education which is always a great way to get your message heard! And you can do it ANYTIME – not just before an election!
---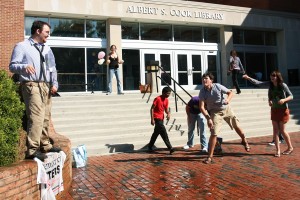 WATER BALLOON EVENT
Towson Univerisity's DM chapter has wanted to do an event involving water-balloons since last spring, and this semester we finally pulled it off! Last semester we were going to simply throw water balloons at some sort of representation of Congress, but in light of the recent BP/Gulf fiasco, we decided it would be engaging for students if we could make BP our "victim". I mentioned the event cautiously at our first meeting of the semester and was elated to see how excited our new members were to do something like that! One of them volunteered to play the part of "BP Executive" for the event, and wore business attire adorned with a BP logo as our target. The event was a huge success! We even ran out of water balloons too early (note that I had 100 water balloons for this event, I would recommend 200 at LEAST for the future). Students walking by asked us questions and got into the frenzy of throwing balloons at our poor BP representative! Our school paper covered the event with a fabulous news article complete with pictures. Thanks to our timing, we even surprised an entire campus tour group as they were coming out of the library with a warm welcome to Towson! I would warn other campuses who want to do this to check with their local/campus police to make sure you don't need a permit. It was a simple, fun way to get students to think and talk about what is going on in the Gulf right now and tying it in with our interest in progressing Fair Elections. We definitely plan on doing this again in the spring (though hopefully there won't be another oil explosion/leak for us to target)!
---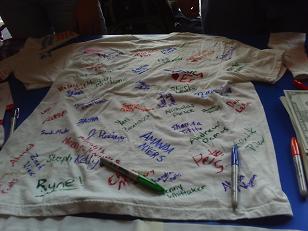 DIRTY LAUNDRY
SUNY Geneseo got creative and instead of sending a simple petition to their Congressional representatives, they had students sign "dirty laundry" that they delivered to district offices. The tabling display included a line of wash with slogans like "We don't want dirty elections!" and "Freshen up your democracy!"
Here's what they did: "We took white t-shirts and socks and rubbed them on the grass and dirt to stain them. Then we washed them to make sure they were actually clean, though dirty looking. On the t-shirts we wrote what became our main slogan, "You don't want our dirty laundry; we don't want your dirty elections."
To get people to sign, we set up a table and used clothes line and pins to hang up the laundry and a poster behind us. When people came by, we had them sign the t-shirts and socks. We then sent the laundry to representatives, accompanied by a letter explaining the concept of our petition (and telling them that the clothes were sanitary) with a request to support publicly-funded elections. We are planning to follow up by lobbying at the representatives' offices."
---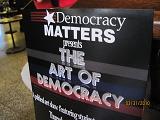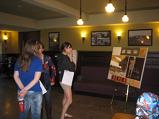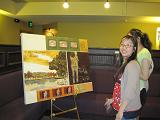 THE ART OF DEMOCRACY
A student art show - "The Art of Democracy" - kicked off a busy April for Colgate DM. Last week's show featured political and environmental art by Colgate students and included posters, videos, sculpture and other art work. The event was a creative and exciting way to involve faculty and students in activism.
---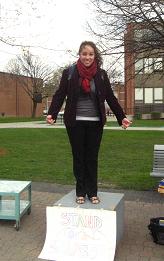 SOAP BOX SPEAKOUT
DMers at the State University of New York Oneonta celebrated Earth Day with a SOAP BOX SPEAK OUT. They invited other organizations to speak on their issues, as well as individual students and faculty. They especially asked people to talk about what Earth Day meant to them. Then of course DMers showed how responses to global warming and other urgent issues were blocked by the role of big private money in political campaigns. Set up your own soapbox and speak out!
---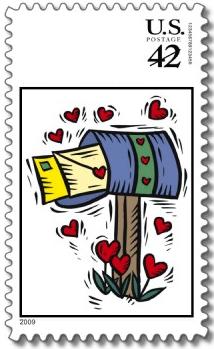 FAIR ELECTIONS VALENTINES
Democracy Matters at Southern Methodist University delivered 59 valentines to Texas State Rep. Dan Branch's office today. The valentines said "Please support public funding of campaigns in Texas." The staff that were in the office were excited to have us there and gave us their cards. They invited us to stay in touch with Rep. Branch, and we are planning to do an actual meeting when he is back in the district to teach him about public funding.
---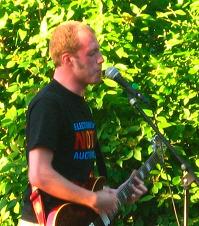 AMPS AGAINST APATHY
"The third annual Ohio State University "Amps Against Apathy" was a huge success! It's a free concert that gets the local music community involved in a good cause: getting kids active in politics! Stop. Notice - we aren't getting bogged down in the very un-sexy world of campaign finance reform just yet. Instead, our first focus is on inclusion. In between bands, DM members get up and give short sound bytes (1-3 minutes) on how clean elections, money in politics, and getting involved in social change. In between bands setting up, we pass around a petition for Fair Elections to send to elected officials. We also have 5x7 hotcards with DM meeting information on it. It's a low-impact way of getting results - our recruitment has gone up by 50%, which is key on a huge campus (50,000) like OSU."
How do you recruit for DM in an environment where it seems like everyone, for every cause, is screaming at the top of their lungs and just adding to the general static? We have learned some fundamentals of organizing here at OSU. If you want attention, you have to put in the effort. Passing out pamphlets in the quad or screening a movie isn't going to garner enough interest in an age of hyper-speed communication and media over-stimulation. You need to create a physical space where people meet and interact face-to-face. The internet works well as an organizing tool, but if you want to build serious activism you need physical bodies in a physical space. So plan an event that will attract attention, get your message out and recruit, recruit, recruit!!
---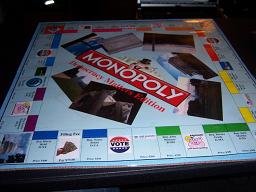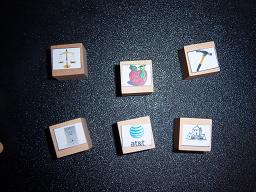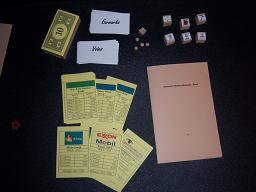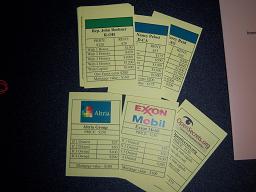 MONOPOLY, DM EDITION
Andrew Segrell of Ohio State University created a fabulous "Democracy Matters Monopoly" game. Here's how he did it: I went to OpenSecrets.org and looked for names that seemed to pop up most often under the largest contributors. I then got a list of all the spaces on the game board and matched up Congressmen to each property. The utilities on the board are OpenSecrets.org and FollowTheMoney.org because I figured those really are utilities of a sort. The game pieces represent six of the top ten largest campaign contributors. So, really, you are the ones buying Congress. The "railroads" each represent a different industry that donates vast amounts of money. For the Chance and Community Chest cards, I renamed them Votes and Earmarks and just changed the wording on the cards to make them more political. The cost/benefit on each card stayed the same so as not to change the balance of the game. The Houses are called "favors" in this game and Hotels are "Political Capital". I thought those were appropriate. The money is just regular monopoly money I bought online.
---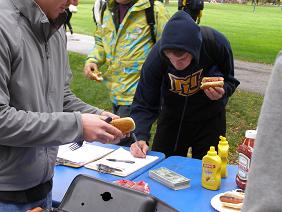 DOGS FOR DEMOCRACY
Marquette University Democracy Matters hosted a "Dogs For Democracy" event where students could get a hotdog, sign a petition for Fair Elections and learn more about Democracy Matters!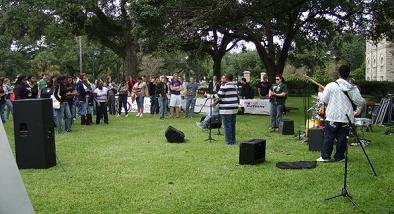 ---
350 RALLY
Democracy Matters at Tulane University rocks for the environment. Tulane DM students organized a concert on the quad to highlight the critical issue of climate change and to spread the word that democracy matters!
---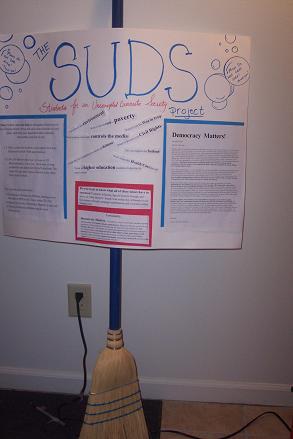 SUDS CAMPAIGN
Our last project for the Fall semester at SUNY Geneseo was a petition initiative. We wanted to execute a creative and thought provoking petition in which supporters would want to ask questions. We decided to buy bars of soap and put them on display in the Union for a week. We called this exhibit/project the SUDS project (Students for an Uncorrupted Democratic Society).
We drafted a letter to our Representative and had people sign the soap instead of boring old paper. We bought over 130 bars of soap, wrapped them in construction paper, and put them on display in the college union lobby for all to see. We also made an awesome poster to go with it. On this paper we had the letter that we wrote to Chris Lee, our new representative for our district, which said why clean and fair elections are important and why we want him to fight for them in New York State and for the rest of the US!
In addition, we wrote why we are doing this interactive and fun soap petition and how and why students should sign it. We also put directions of how to sign the soap and what we would be doing with the soap once the signatures were collected (taking them to Representative Chris Lee).

After tabling for about 14 hours that week, we managed to collect around 278 signatures for fair and clean elections! I called a couple of times to see if Chris Lee was going to be in his Williamsville, NY office (a 20 minute drive from my house) but it was hard getting a hold of him as he was making the transition from being a local politician to being sworn into a US Representative seat. So I unfortunately ended up mailing the entire package to his office.
It was a fun and interactive project that spread the word of Democracy Matters and Clean elections and also allowed for a solid action to take place. The only thing I would change is the delivery of the package. Next time I would like to coordinate an office visit and bring people with me to talk about Clean Elections.
This semester we plan on doing another creative petition. Instead of soap bars (which were pretty expensive), we decided to cut out large cardboard rubber duckies and paint them. We are going to put them on display in the union, and use the same letter, and poster for why it is important to support clean elections and the bill in New York. This time we are going to send it to our legislators in Albany. We hope to get 400 signatures this time (over one hundred more from last time). We are toying with the idea of bringing them to Albany during our April 7th trip to meet with legislators.