CAMPUS HIGHLIGHT…WOMEN'S HISTORY MONTH…MONEY ON MY MIND…QUOTE AND IDEA OF THE MONTH…DM NATIONAL STUDENT SUMMIT…FACTS YOU CAN USE…
---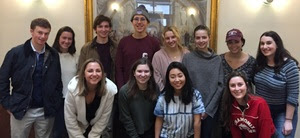 CAMPUS HIGHLIGHT
Democracy Matters at Colgate University celebrated their 17th consecutive year! They host regular lunchtime "Brown Bag" discussions with faculty members and they co-sponsored a "Political Trivia Night" with college Republicans and Democrats.
Last month, the club recruited lots of new members by holding a DM Open House in their Student Center with John Oliver clips playing on a big screen. Different tables featured DM activities, including voter registration and a "Stamp Stampede" where students could stamp their dollars with "Get Money Out of Politics." Among other plans this spring are a lobby day and a fundraising campaign. DMers will sell stickers illustrating the link between big campaign money and gun violence, and then donate to organizations standing up to the NRA.
---
CELEBRATE WOMEN'S HISTORY MONTH
#ME TOO is evidence that women and men are finally pushing back against the scourge of sexual harassment and violence. Yet women remain unequal – less pay, fewer women elected to political office, no paid parental leave from work. Women are the largest group of American adults living in poverty, they lack affordable day care, and they are largely responsible for caring for their homes and children.
Celebrate Women's History Month and March 8th's International Women's Day. Organize discussions, tabling, educational poster campaigns, and documentaries dealing with gender equality. See "Facts" below for information about women in politics. Reach out to women's studies, sociology and history departments and get them involved!
Read more about Women's Rights here.
---
MONEY ON MY MIND
Court decisions have restructured the power of money in our political system, giving ordinary citizens less voice. Mandle's column this month explores public campaign financing as a way to push back against Citizens United and the rapid growth of SuperPACS and ultra-rich donor networks, while still protecting the democratic right to free speech.
Read the full article and explore other issues of MOM.
---
QUOTE OF THE MONTH
"One of the things that most discourages people is money in politics. Our goal is for elections to be funded primarily by public dollars, thereby greatly reducing the power of big money."
New York Mayor Bill DeBlassio vowed to "get big money out of politics" by increasing the city's public campaign financing program and reducing private contributions to candidates.
De Blasio Will Tackle Money in Politics, New York Times, February 13, 2018
---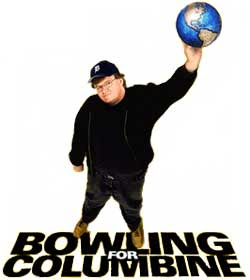 IDEA OF THE MONTH
With high school students organizing around gun violence, March is a perfect time to screen Michael Moore's Bowling at Columbine, one of the best documentaries ever made. The NRA spent over $60 million during the 2016 election cycle to defend gun rights. Hold a discussion about the power of money to drive political policy, and provide information on the campaign contributions of gun rights advocates.
---
THE 17TH ANNUAL DEMOCRACY MATTERS NATIONAL STUDENT SUMMIT
DM students from North Carolina, Florida, Massachusetts, New York, Georgia, Pennsylvania and more spent a weekend in February together strategizing, networking and planning to take back our democracy!
Download workshop handouts here.
---
FACTS YOU CAN USE: Women, Money and Politics
American women are underrepresented in politics at every level.
8% of Governors are women
20% of members of Congress are women
24% of state legislators are women
25% of statewide offices are held by women
96% of elections are won by the candidate who spends the most money. But women candidates are typically underfunded compared to men. Women donors tend to support female candidates, but those donors have been relatively few. In 2016 women's contributions totaled only 14% of the $401 million contributed by the top 100 donors.
Things are changing! In 2018 women's political donations are increasing, as significantly more women step up to run for office. 390 women are running for Congress in 2018, compared to just 170 two years earlier. The bulk of women's 2018 giving is going to Democratic women candidates.
Center for Women and Politics, Rutgers University
Democratic women running more, giving more money
---
To honor our 2017 activists, we list ten Democracy Matters chapters in each E-News:
Syracuse University…University of Albany…University of Florida…University of Maryland…University of Miami…Ursinus College…Vassar College…Binghamton University…Boston University…Colgate University…
More Campus Chapters
.