ADONAL'S WELCOME…DC "FAIR ELECTIONS"…QUOTES AND IDEA OF THE MONTH…NEW BOOKS…MONEY ON MY MIND…FACTS YOU CAN USE…
---
WELCOME FROM ADONAL
Welcome back! I look forward to seeing you at our 17th DM National Student Summit on February 10th  and 11th in Albany NY. All are welcome!
The conference, registration, room and board are free to DM members, and $50 to non-members. Bring your friends from other colleges, for interactive workshops, sharing best organizing practices, and hearing from great speakers including Congressman Paul Tonko and Connecticut legislator Gary Winfield.
I know this will be the best Summit yet! Register today!
---
DC "FAIR ELECTIONS" VOTE
On January 9th, District of Columbia legislators voted unanimously to support public campaign financing for District offices. In a 13-0 vote, the "Fair Elections Act" passed its first hurdle to becoming a law. If implemented, the law will reduce the money barrier for candidates and offer voters more choice. Its matching system will give eligible candidates $5.00 for every $1.00 they raise from residents of the District.
"Money plays an inordinate role in DC politics, resulting in scandal after scandal and tainting the public's confidence in government. The Fair Elections program attacks this plague head on by taking big money out of our elections," said Craig Holman of Public Citizen.
---
QUOTES OF THE MONTH – February is Black History Month
"When machines and computers, profit motives and property rights, are considered more important than people, the giant triplets of racism, extreme materialism, and militarism are incapable of being conquered." Dr. Martin Luther King
"Will America courageously live out Dr. King's dream or will it go down the road of bigotry and racist vitriol?" George Yancey
Read George Yancey's article in the NY Times.
---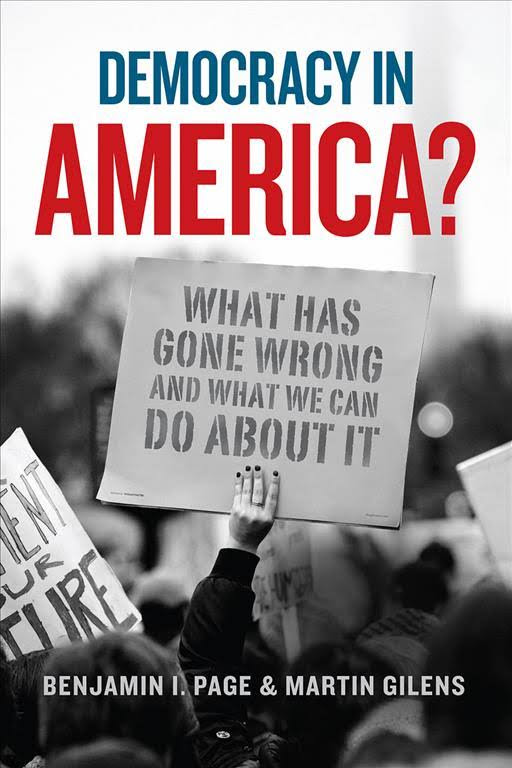 TWO IMPORTANT NEW BOOKS
Two new books prominently mention Democracy Matters student activism. Democracy In America: What Has Gone Wrong and What We Can Do about It by Professors Page and Gillis. It mentions DM organizing as significantly contributing to the national democracy movement. Page and Gillis have been acclaimed for their path-breaking research on the problem of big money in politics.
Daring Democracy: Igniting Power, Meaning, and Connection for the America We Want by Frances Moore Lappe and Adam Eichen is another important new book. The section on "Youth On the Front Lines," describes how Democracy Matters students are helping to construct a truly democratic society. Adam Eichen was a DM intern in college and is now on the DM Board of Directors.
---
MONEY ON MY MIND
The recently passed tax "reform" bill is a giveaway to big campaign donors and corporations. But the growing government deficit it will produce has another purpose – justifying right-wing efforts to dismantle the already shredded social safety net on which so many Americans rely. (See "Facts You can Use" below)
Read the full article and explore other issues of MOM.
---
IDEA OF THE MONTH – WRITE FOR YOUR SCHOOL PAPER
DM intern Joshua Berry wrote about voting rights and Automatic Voter Registration (AVR) in the Harvard Political Review (excerpt): "Voter registration issues still loom large in America: one in four eligible citizens is not registered to vote; and racial minorities and the poor are significantly less likely to be registered than white, financially secure Americans. AVR actually protects the electorate and limits instances of fraudulent registration."
SUNY Oneonta's paper reported on DM Executive Director Joan Mandle's lecture on Women and Politics (excerpt): "Empowering women to run for office is a major step forward for everyone around the globe. Many college students are getting more involved. Women and people of color are using more platforms to have their voices heard and are running for office in 2018."
When the Democracy Matters chapter at Emma Willard School brought a NY State legislator to speak, the school paper reported (excerpt): "Pat Fahy became the first woman elected to her seat in the New York State Assembly. Upset by the large and corrupt influence campaign finance has on elections, Fahy advocates to get big money out of politics. Fahy spoke about social movements, campaign finance reform, and political advocacy."
---
FACTS YOU CAN USE – BIG MONEY INFLUENCES TAX POLICY
It's often argued that you can't prove a connection between big money in politics and specific policies or laws. But intense Congressional lobbying and huge amounts of money paved the way for the recently passed tax bill, hugely benefitting corporations and wealthy individuals. What do you think?
Tax-lobbyists representing those in favor of tax reform gave a total of $78.5 million since 2011 to members of Congress.
60% of those campaign contributions went to Republicans; 40% went to Democrats.
In 2017, Paul Ryan (R), Speaker of the House of Representatives, received $357,200, the largest campaign contribution from interests represented by tax-lobbyists.
In 2017, tax-lobbyists comprised 60% of the total 11,078 federal lobbyists.
Democracy requires an active citizenry talking to and lobbying their representatives. But NOT when some get access and influence through their money, while others are shut out.
---
To honor our 2017 activists, we list ten Democracy Matters chapters in each E-News:
Iona College…New College of Florida…North Carolina Central University…North Carolina State University…Ramapo College…Simmons College…Suffolk College…SUNY Geneseo…SUNY New Paltz…SUNY Oneonta…
More Campus Chapters
.