GREAT DM SUMMIT…CAMPUS HIGHLIGHT…QUOTE OF THE MONTH…IDEA OF THE MONTH…MONEY ON MY MIND…FACTS YOU CAN USE…
---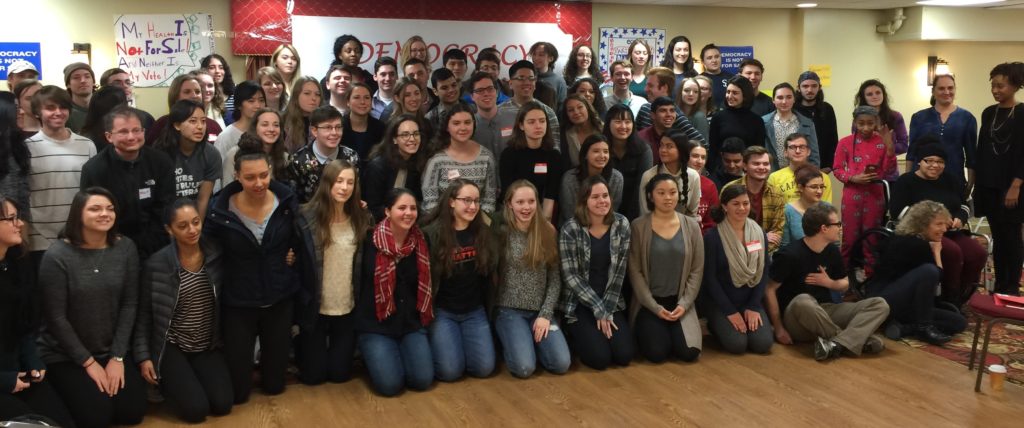 THE GREAT DM SUMMIT
The 16th fabulous DM Summit theme this year was "Saving Our Democracy." Nearly one hundred DM activists attended interactive workshops on the art of grassroots organizing, effective political messaging, lobbying your reps, and building great Democracy Matters chapters. We heard from Morris Pearl of Patriotic Millionaires on why we need public financing of elections, from Zephyr Teachout on running for office, and from Rosemary Rivera of NY Citizen Action on race, inequality and social change. In breakout groups, we shared experiences and strategies for campus organizing, and networked with each other and with DM staff, alums, board of directors members, and Adonal Foyle, DM's founder. Energized and inspired, we returned to our campuses to share what we learned and to continue the fight to create a strong and inclusive democracy where money no longer rules.
---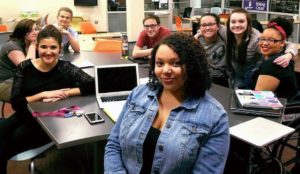 CAMPUS HIGHLIGHT
In Salt Lake City, Utah the active Westminster Democracy Matters chapter has big plans for spring semester organizing. Last semester, they hosted several very well-attended Presidential debate screenings and registered students to vote. This semester they will pivot back to their core issue – the damaging role of money in politics. Josie Stoker and her DM members are planning a large campus event with professors to talk about non-partisan activism on money in politics and other issues. Other educational sessions will feature collaboration with the school's Feminist Club, Black Student Union and other groups. Their on-going tabling and recruiting has built a strong chapter that continues to impact their campus.
---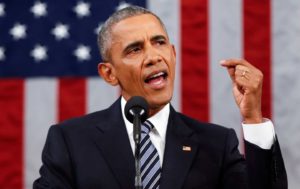 QUOTE OF THE MONTH
"Democracy can buckle when we give into fear…we must guard against a weakening of the values that make us what we are. Change only happens when ordinary people get involved, get engaged, and come together to demand it. Lace up your shoes and do some organizing!"
President Barack Obama, Farewell Address, January 10, 2017
---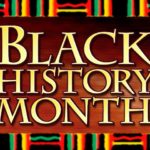 IDEA OF THE MONTH – Celebrate Black History
The celebration of Martin Luther King's birthday in January and during February's Black History month recalls the struggles of people determined to protect and deepen a democracy that includes all of us. Democracy Matters is proud to be part of the on-going tradition of activist citizens organizing at the grassroots to create a true democracy of, by and for ALL the people.
DM chapters are joining in Black History Month events, highlighting the economic and political inequality that corrodes our democracy. As a small group of the ultra-rich use their wealth to deny the rest of us equal opportunity and a political voice, we must speak out, with speaker forums, petition campaigns, and calls to our Congressional and state representatives. DMers are working to help fulfill Dr. King's dream of justice – that "one day this nation will rise up and live out the true meaning of its creed…that all men are created equal."
---

MONEY ON MY MIND
It will take widespread grassroots activism to defeat Trumpism's anti-democratic tendencies, argues Jay Mandle in this month's column. If we are to succeed, the public financing of election campaigns must be central to this struggle.
Read the full article and explore other issues of MOMM.
---
FACTS YOU CAN USE: Unprecedented Money in Politics
President Donald Trump is surrounding himself with millionaire and billionaire Cabinet appointments and advisors. Corporate executives will dominate legislation and our public policy.
    Trump stacks kitchen cabinet with millionaire, billionaire executives
(December 2, 2016 – The Washington Post) "Donald Trump has assembled a 16 person "Strategic and Policy Forum," kitchen cabinet of wealthy corporate and financial executives — including current and former leaders from General Motors, JP Morgan Chase and IBM — to provide him with economic advice. Leader of the 16 person group is Stephen Schwarzman, who has an estimated net worth of $9.9 billion."
Read more.
    Corporations Open the Cash Spigot for Trump's Inauguration
(January 15, 2017 – The New York Times)
Read more.
    Donald Trump is Assembling the Richest Administration in Modern American History
(November 30, 2016 – The Washington Post) "Trump is putting together what will be the wealthiest administration in modern American history. His announced nominees for top positions include several multimillionaires, an heir to a family mega-fortune and two Forbes-certified billionaires. Many of the Trump appointees were born wealthy, attended elite schools and went on to amass even larger fortunes as adults. As a group, they have much more experience funding political candidates than they do running government agencies.
Read more.
    Trump's $6 Billion Cabinet: Mostly Men, Mostly White and Not Much Government Experience
(January 11, 2017 – Bloomberg News) "The first billionaire U.S. president has appointed two billionaires and at least 10 millionaires, with a combined net worth of about $5.6 billion, to run government departments. Two appointees to cabinet or cabinet-level positions are former generals. And only half have any prior government experience. Many of Trump's nominees have close ties to Wall Street and corporate America."
Read more.
---
To honor our 2016 activists, we list ten Democracy Matters chapters in each E-News:
Gettysburg College…Guilford College…Harvard University…Iona College…Keene State College…Marygrove College…Mississippi University for Women…New College of Florida…North Carolina A&T…Northeastern University…