CAMPUS HIGHLIGHT…APRIL WEEK OF ACTION…MONEY ON MY MIND…IDEA & QUOTE OF THE MONTH…DC FAIR ELECTIONS…FACTS YOU CAN USE…
---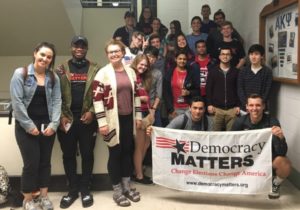 CAMPUS HIGHLIGHT: University of Florida
Our campus highlight this month is the University of Florida. Led by Sam Jenkins, this new DM chapter is having a fantastic year. They organized a "White House for Sale" event to auction off a large cardboard cutout of the White House, ran a successful numbers campaign and later held a Town Hall meeting on "Fake Democracy." Other actions include registering students to vote, writing letters to their elected officials, and personally lobbying Gainsville City Commissioners.
Sam attributes their successful recruiting, mobilizing and retaining so many active DMers to "telling our personal stories of why we're fighting big money in politics. It's been important to take the time to have genuine conversations about ways it harms us personally." Congratulations to Sam and U of Florida DM.
---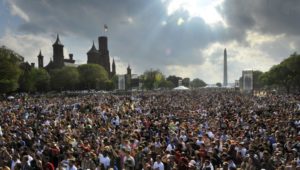 APRIL WEEK OF ACTION
To climax their year of campus organizing, Democracy Matters chapters concentrate their actions in one special week in April. During the April Week of Action, DMers hold campus teach-ins, film screenings, open mic speak-outs and poetry slams, pizza and politics discussions, class raps and more.
This year the DM Week of Action coincides with national mobilizations – marches, teach-ins, music and speeches in Washington and around the country. April 22nd is Earth Day and the National March for Science, "Science Serves Us All." A week later, April 29th, is the People's Climate March for climate, jobs and justice.
This April, Democracy Matters students will be organizing to deepen democracy – on campus and off!
Read more about the march for climate, jobs and justice.
Read more about the Earth Day march for science.
---

MONEY ON MY MIND
Donald Trump's budget proposal completely eliminates organizations such as the Appalachian Regional Commission, the Interagency on Homelessness, and others established to help the victims of market failure. In this, Trump reveals that his claim of populism is a fraud. A real populism would embrace efforts to regulate not only markets, but also our out-of-control campaign financing system.
Read the full article and explore other issues of MOMM.
---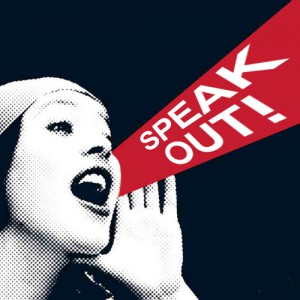 IDEA OF THE MONTH – Tell Them What You Think!
Democracy Matters activists regularly contact their elected representatives to make sure that politicians know what students and young people want. DMers in New York and Mississippi organized April lobby visits to speak with state legislators in Albany and Tallahassee. Other DM chapters are reaching out to members of Congress, as well as their local politicians through face-to-face meetings, social media, call-in days, letter writing, petition campaigns, and more.
We are proud to be part of national campaigns to resist the Gorsuch nomination, support voting rights reform, and endorse public campaign financing bills like the "Government By The People Act." Don't forget! Your elected officials work for YOU! Let them know what you think – early, often, and in as many ways as possible.
Read more about the Government by the People Act.
---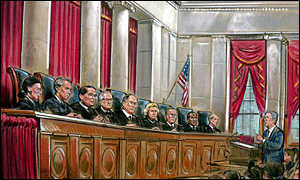 QUOTE OF THE MONTH
"Now more than ever, we need a Supreme Court Justice who will stand up for the rights of all Americans against big corporate interests. But Judge Neil Gorsuch is not that Justice. On the bench, Neil Gorsuch has repeatedly advanced an ultra-conservative agenda that sides with corporations and special interests over workers and the disabled.
Judge Gorsuch believes that private corporations are people with rights that supersede those of individual Americans. We cannot let Judge Neil Gorsuch become the crucial ninth vote on this Supreme Court." Senator Ed Markey
Every Voice Blog
Other Senators weigh in.
Compare Scalia to Gorsuch.
---
FAIR ELECTIONS IN D.C.
A public financing bill was re-introduced in the Washington, D.C. City Council last month. It has the strong support of 10 members of the City Council, 70 community groups and advocacy organizations, and over 4,000 petition signatures. The bill will limit the influence of big money in elections and, as Council member Brianne Nadeau explained, "It will reduce the influence of special interests and give more power to the people of D.C., where it belongs."
---

FACTS YOU CAN USE – Who's Bob Mercer? Bigger than the Koch's?
Recent investigative journalism has revealed the out-sized role of NY hedge fund giant Robert Mercer and his daughter Rebekah in developing and funding the alt-right media in alliance with Steve Bannon. Their donations to ultra-conservative groups and politicians (including Donald Trump) paved his way to the White House, and put Rebekah on the executive committee of Trump's transition team. The Mercers now own a huge piece of the President of the United States.
Here are some highlights:
When you look at donors during the past four years, the Mercers have had the single biggest impact of anybody, including the Kochs.
In 2016 Mercer gave $22.5 million in disclosed donations to Republican candidates and to right political-action committees.
Rebekah has been called "the first lady of the alt-right."
Mercers poured millions of dollars into Breibart News.
Mercer has asserted repeatedly that African-Americans were better off economically before the civil-rights movement.
Mercer has catapulted to the top of the heap of right-of-center power brokers.
Read More:
The New Yorker: The Reclusive Hedge-Fund Tycoon Behind the Trump Presidency.
The Washington Post: The Mercers and Steve Bannon.
Huffington Post: The Blow-it-all-up Billionaires.
---
To honor our 2016 activists, we list ten Democracy Matters chapters in each E-News:
Tufts University…Union College…University of Florida…Ursinus College…Vassar College…Westminster College…Appalachian State University…Bard College…Colgate University…Emerson College…
More Campus Chapters.