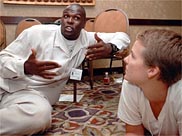 When I was in college, my friends and I talked about issues we cared about–civil rights, good schools for kids in poor neighborhoods, the environment. We talked about how, someday, we were going to make a difference in the world.
Well, I'm in the NBA now, those issues still matter to me, and I still want to make a difference. But, I also want students to know that they can make a difference now, on all the issues they care about.
I started Democracy Matters to help students fight for progressive change by standing up to big money interests corrupting our democracy. I hope you will join me in the fight to change elections and change America.
Read Adonal's speech: "So What Does NBA Basketball Have To Do With Campaign Finance Reform Anyway."
Read Adonal's editorial: "My Generation Is Far From Apathetic."