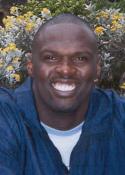 In 2001, NBA player Adonal Foyle founded Democracy Matters to give college students a voice in the pro-democracy movement and an active role in the national dialogue on money in politics.
"I started Democracy Matters to help students fight for progressive change by standing up to big money interests corrupting our democracy. I hope you will join me in the fight to change elections and change America." more…
As President of Democracy Matters, Foyle plays a crucial role in the organization's success. He serves as a committed and articulate advocate for the political engagement of young people and for the movement to get private money out of politics.
The NBA has recognized Foyle three times for his commitment to democracy with nationally televised presentations of their "Community Assist Award." The Greenlining Institute presented him with their prestigious Change Agent Award for his commitment to campaign finance reform. And he received the City of San Francisco's Sports Hero Award. Most recently, he was inducted into the 2009 Sports Humanitarian Hall of Fame.
Foyle's commitment to Democracy Matters has been widely hailed in the press, including in The New York Times, Sports Illustrated, USA Today, The Nation, The Congressional Quarterly, Mother Jones, ESPN Magazine, the Chicago Tribune Magazine as well as numerous local newspapers. Foyle is passionate about activating young people to be civically and politically engaged. In an op-ed piece entitled "My Generation Is Far From Apathetic," Foyle recounted the tremendous energy and creativity Democracy Matters students have brought to the work of deepening democracy.
Each year, Foyle spearheads Democracy Matters' National Student Summit for Campus Coordinators and student members from across the country. Read Adonal's opening remarks from the 2003 National Student Summit.
Foyle has spoken about Democracy Matters at hundreds of high schools, universities, and civic associations including The American Bar Association, the LawSchool of the University of California (Boalt Hall), and the New York Conference on Campaign Finance Reform and Communities of Color. On September 7, 2011, he spoke for a Political Science class at the University of California Berkeley. You can listen here.
Adonal Foyle graduated from ColgateUniversity in 1998 Magna Cum Laude with a degree in History. He received a Master's Degree in Sports Psychology at the JohnF.KennedyUniversity. He is a veteran NBACenter, first drafted as a first-round lottery pick in 1997. Retiring as a player after 13 exciting years in the NBA, he is now a Sport Psychology Consultant. For more information, visit www.adonalfoyle.com.
Read what Slam magazine wrote about Foyle in the August 25, 2014 online edition.